Guitarmaker Issue 40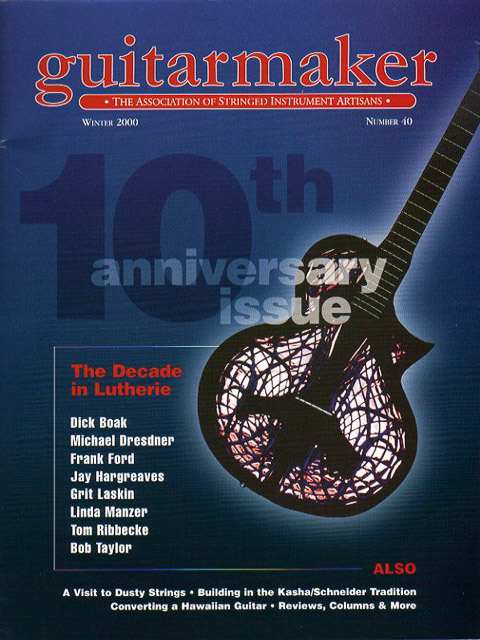 You must be signed in to view the PDF
The Decade In Luthiery
Photo of Tim White's Chrysalis guitar.
guitar, inflatable
ASIA Letters
Tom Blackshear, Elderly Instruments, Joe Pickerelli, Ralph Novak, Julius VanderKople
Blackshear comments about sound ports on spanish guitars, Elderly Instruments announces a job opening, Pickerelli is looking for an apprentice, Novak is looking to sell his business, and VandeKopple lets us know that the Catgut Acoustic Society is putting renewed emphasis on guitar acoustics. With 1 photo.
sound ports; apprentice; business; acoustics
ASIA Notes
Rick Davis
Editor Davis waxes about communities in general and the luthier community in particular. With 1 photo.
ASIA; Guitarmaker; symposium; event
Technology and Dog Years
Bob Tayor
Taylor looks back on his guitar making experience over the last years. Of course technology was an important part of that experience. With 2 photos.
history
There Once Was a Time
Grit Laskin
Laskin looks back a little more than 10 years and recounts a wonderful story of how things were just before the "golden age of guitar making." With 1 photo.
humor; tools; tonewood; history; biography
My Life's Adventure with Richard Schneider
Jay Hargreaves
Hargreaves writes about his history with Richard Schneider and the Kasha-style guitar. With 3 photos.
Kasha; Schneider, Richard; history; biography
Submillennium Guitarpick Blues
Dick Boak
Boak attempts to "shed some light on the past, present and future ofluth-ing in this tenuous galaxy." With 3 photos.
history; humor; biography
A Quick Ten Years
Tom Ribbecke
Ribbecke offers his perspective on the last ten years of lutherie. With 1 photo.
history; biography
Thoughts for the Millennium
Linda Manzer
Manzer retells her own luthiery history over the last 25 years. With 4 photos.
history; biography
A Decade of Acoustic Change
Michael Dresdner
Dresdner's career over the last ten years has moved away from guitar making, but he's seen major changes in the field. With 1 photo.
history
Luthiers of England, Part I
Dan Erlewine
In this first of two parts, Erlewine and his wife visit six English luthiers (Bill Puplett, Sid Poole, Patrick Eggle Guitars, Jaydee Guitars, and Gordon-Smith Guitars). Many shop-made tools and jigs to savor. (Part II is in issue 41.) With 41 photos.
biography; tools, jig; tools, shop-built; shop
That Which Does Not Kill Us
Gary Zimnicki
Zimnicki is commissioned to build a Kasha/Schneider classical guitar, He chronicles his learning process, questions and insights he gained along the way. With 8 photos and 1 drawing.
Schneider, Ricahrd; Kasha; guitar, nylon string
Andy Manson's Talking Wood
Dan Erlewine
Erlewine heartily recommends this limited-edition 10-month diary of a luthier. With 2 photos
book; review
Guitars from Start to Finish
Robert Resnik
This 32-page book is aimed at simplifying the guitar making process so children can understand it, but it is pretty entertaining, even for adults. With 1 photo.
book; review
Journal of Guitar Acoustics
Walter Lipton
Lipton reviews the unabridged journal aimed at the science-minded luthier. With 1 drawing.
book; review
Looking Back as Far as I Can See
Frank Ford
A look at how things have changed in guitar repair over the last generation or so. Lots of details of "proper" and "improper" repairs. With 21 photos.
repair; history
Converting a Martelle Deluxe
Michael Greenfield
Converting a Martelle Hawaiin guitar made by Gibson to a fettted jumbo. With 14 photos.
repair; guitar, Hawaiin
Dusty Strings
Michael Greenfield
History and shop tour of harp maker Dusty Strings. With 18 photos.
harp; history; biography; shop
Member's Spotlight - Robert Steinegger
Robbert Steinegger
Brief autobiography of ASIA member Steinneger. With 1 photo.
biography
ASIA Members
Elmo MacDonald
MacDonald shares a tip for cutting binding and purfling channels. With 2 photos.
tools; jig;
Harry F. Eibert's Harp-Uke
Harry Eibert
Why Eibert built a pair of uke-sized harp-guitars. With 3 photos.
guitar, harp; ukulele
The Sources of Counry Music
Thomas Hart Benton
Painting commissioned by the Country Music Hall of Fame.
history