Guitarmaker Issue 27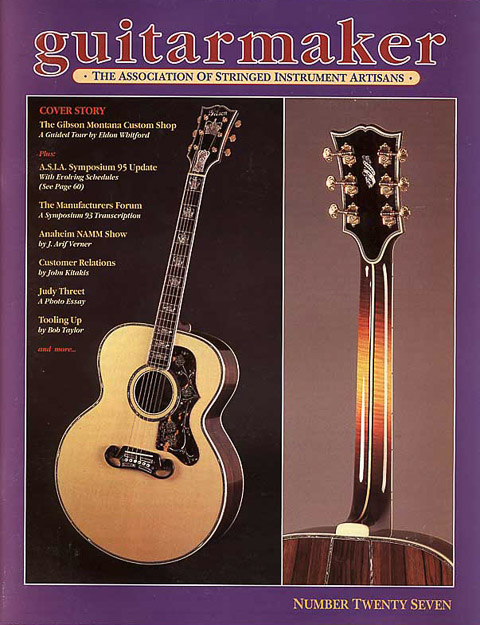 You must be signed in to view the PDF
Gibson Monarch Guitar
Cover photo of a Gibson Monarch Guitar (an elaboration of the J-200) built in the Gibson/Montana custom shop.
guitar, steel string
Letters
Jay Lundell
Lundell offers tips on how Guitarmaker can better serve its readership.
Guitarmaker
New Members
Kamel Chenouay, Steven Hoagland, Bruce Pritchard
Each author talks briefly about his luthiery. With 4 photos.
biography
Members' Spotlight
Jim Stagnitto, Dan Williams, Kaz Krawczak
Each author talks briefly about his luthiery. With 6 photos.
biography
Follow-up
A.B. Acker
Acker offers corrections to his fret spacing program from issue 24 and comments on John Ryon's criticisms in issue 25.
errata; fret
Help Wanted
Larry Heinemann, Brian Moore
Blue Man Group seeks an adventurous builder for their unique instruments. Brian Moore Custom Guitars is lookinf for experienced help.
business
Positions Wanted
Jack Burden, Filippo Avignonesi
Burden and Avignonesi, both young luthiers seek permanent positions. With 1 photo (of Burden).
business
The Gibson/Montana Custom Shop
Eldon Whitford
A detailed look at the relatively new Custom Shop at Gibson/Montana told in an interview with John Walker, Supervisor. How it started, how it works, why it has succeeded. With 8 photos.
interview; biography; Gibson; business
Luthier Judy Threet
Judy Threet
Canadian luthier Threet gives her biography and a shop photo-tour. 18 photos.
biography; shop; tools, jig; tools, shop-built
Manufacturers Forum
Chris Martin, Bob Taylor, Ren Ferguson, Willi Fritscher, John Page
Representatives from Martin, Taylor, Gibson, Guild, and Fender discuss wide-ranging topics in guitar manufacturing: supply, inventory, personnel, business culture, tooling, finishing, marketing, schooling, innovation -- everything! 19 pages. With 4 photos.
symposium; business; finishing, school; factory
January NAMM
Arif Verner
Verner visits the 1995 National Association of Music Merchants show in Anaheim California.
business
Guitars Stolen
Judy Threet
Six guitars were stolen from Threet's shop. Description and serial numbers provided.
business
Book Review: Gibson Guitars, 100 Years of an American Icon
Walter Carter
Carter ultimately describes the "Gibson Guitars: 100 Years of an American Icon" as a must have.
review; book; Gibson; history
Guitar Course Announcement
The Luthier's Workshop announces a seven-day intensive steel string kit-building course taught by Thomas Knatt and Alan Carruth in Waltham Mass.
school
Help Wanted
C.F. Martin is looking for an R&D Manager.
business
Customer Relations
John Kitakis
Kitakis gives pointers for good customer relations. With 1 photo.
business
Odds & Ends
William Cumpiano and Ivon Schmukler announce the start of One Cottage Street School of Fine Woodworking. Roberto-Venn School of Luthiery announces their 1995-1996 class schedule. William Cumpianl wins a National Endowment for the Arts grant for the "Puerto Rican Quatro Project." The Craft Center in Smithville, Tennessee offers a dulcimer making workshop. ASIA announces Jimmy Bruno to perform at Symposium 95. ASIA notes the passing of Bob Alenko of Nashville.
school; cuatro; symposium; memorial
Tech Tip
David LaPlante
La Plante shows how to modify a common Sears bit to make a bearing-guided binding bit from. With 1 drawing.
tools, shop-built
Wood Day at Cantebury Shaker Village
Dave Emerson
The Cantebury Shaker Village hosts an annual woodworking celebration. In 1995, musical instrument making will be among the featured crafts.
business
Shop Tooling
Bob Taylor
Taylor kicks off a series of columns with a tooling philosophy, sources for ideas, and some details for drilling jigs. With 5 illustrations.
tools, jig; tools, shop-built
Whimsy Before Breakfast
Michael Dresdner
Questioning tradition enough to allow for improvements in guitar making.
design; humor
Running the Business
Cathy Currier
Currier discusses adding retail merchandise to your business mix.
business
Two Guitars by John Reuter
John Reuter
Photos of two guitars by John Reuter. One is a double neck 6- and 12-string acoustic. The other if a koa resophonic cutaway.
guitar, resophonic; guitar, steel strng