Guitarmaker Issue 26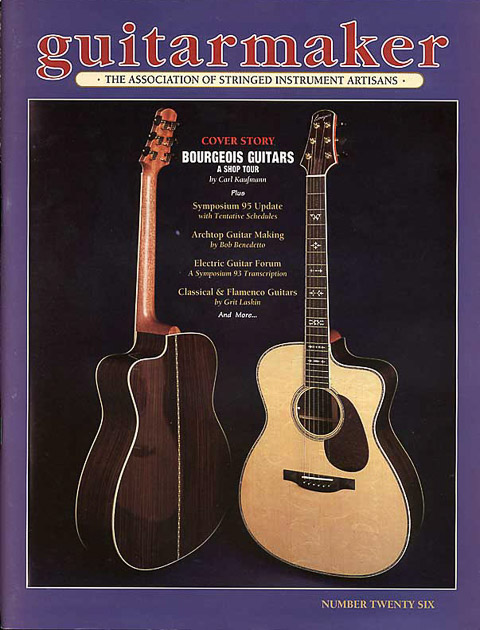 You must be signed in to view the PDF
Bourgeois Jumbo OM
Dana Bourgeois
Cover photo of matching Bourgeois Jumbo OMs
guitar, steel-string
Letters
Flip Scipio, Brian Sheffer, Vic Germaniuk, Mark Moye
Scipio thanks Dick Boak for his work at ASIA. Schaeffer seeks advice on marketing for his fledgling custom shop. Germaniuk seeks advice on starting a local guild. Mark Moye renews his membership. With 2 photos of unusual instruments at Mandolin Brothers.
ASIA; business; club
New Members
Jean Claude Lebraud, Yuri Shiskov, Doug Naselroad
Each author talks briefly about his luthiery. With 3 photos.
biography
Members' Spotlight
Tom Nechville, Charlie Vasta, Jamon Zeiler, Sheldon Schwartz
Each author talks briefly about his luthiery. With 5 photos.
biography
Follow-up
Tom Humphrey
Humphrey offers his way to tell if a piece of wood is long grain or short grain. This is a follow-up to Graig Carter's tip in issue 24. With 5 illustrations.
tonewood
Help Wanted
Dana Bourgeois
Bourgeois Guitars looking for qualified production personnel
business
Luthier Dana Bourgeois
Carl Kaufmann
History and tour of one-year-old Bourgeois Guitars. Read about their philosophy, see some of their toos and employees, and their plans for the future. With 9 photos.
biography; history; factory; tools, jig; design; shop
Classical and Flamenco Guitars
Grit Laskin
Lasking compares classical guitars to flamenco guitars at a high level. Covers materials, dimensions, action, etc. With 3 photos.
guitar, nylon string
Symposium 95 Information
Tentative schedule of events for the 95 Symposium.
symposium
Making an Archtop Guitar
Bob Benedetto
Chapter five of Benedetto's book "Making an Archtop Guitar." This chapter is on bracing the soundboard.With 11 illustrations and 5 photos.
guitar, archtop; soundboard; bracing
Odds and Ends
Charles Fox, Sun Peng
American School of Lutherie 1995 Schedule. Guitars stolen from Carlos Santana. China announces the Sound, Light, and Music Exhibition. Fine Woodworking lowers prices on their videos (did you know they used to be $40?). 20th Century Guitar magazine goes monthly.
school; event; video
Book Review: Making Master Guitars
Ervin Somogyi
Somogyi finds much fault with the writing and the accuracy of the plans in this book. The author rebuts many of his comments in a follow-up letter. With 1 photo.
review; book; guitar, nylon string; history
Book Review: The Art of Inlay
David Nichols
Nichols approves of Robinson's efforts. With 1 photo.
review; book; inlay
Electric Guitar Forum
Roger Sadowsky, Mike Stevens, Joe Glaser, John Page
Transcription of a panel discussion at Symposium 93. Topics include tremolo systems, tuners, nuts,shielding, pickups and neck joints. Good tips on design, maintenance, and repair of electric guitars. With 4 photos.
guitar, electric; symposium; repair; pickup; tuner; electronics
Peter's Valley Guitar Making Course
Jim Stagnitto
Stagnito describes the experience of helping teach at the Peter's Valley Course. With 2 photos.
school
More Odds & Ends
Phillippe Collard, Grit Laskin
Collard is looking for a technical or sales position in the guitar industry. Just Jazz Guitar magazine debuts. Laskin announces his Humitar guitar humidifier.
business
A Tribute to Dick Boak
William Cumpiano
Cumpiano and many others comment positively on Boak's tenure as director of ASIA.
humor; biography
Running the Business
Cathy Currier
Currier describes the growth of her parents' music store and how she grew into the business. With 1 photo.
business
Q&A
Dick Boak
Boak answers questions on a source for fret-slotting circular saw blades and ebony as a tonewood. A reader seeks information on a German company called Dommenget. With 3 photos.
tools, jig, tools, shop-built; tonewood
Book Review: Making an Archtop Guitar
Mark Campellone
Campellone praises the new book by Benedetto.
guitar, archtop; review; book
Three Instruments
Steve Anderson, Bob Gleason, Tom Nechville
Beauty shots of three instruments: an oval hole archtop, a koa ukulele, and an oak-leaf banjo peghead.
ukulele; guitar, archtop; banjo