Guitarmaker Issue 96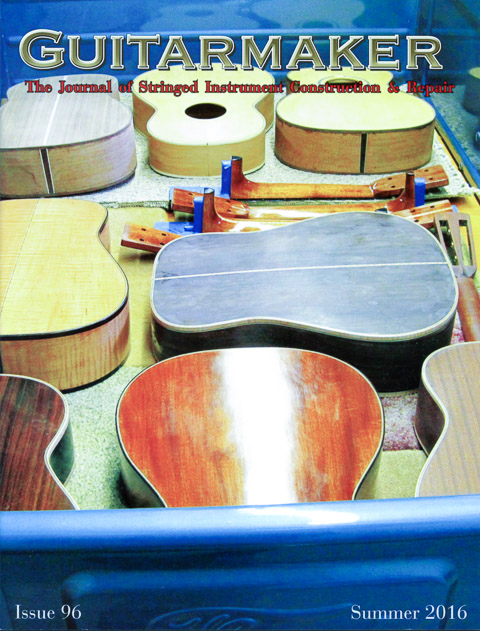 You must be signed in to view the PDF
Front Cover
Alton Acker
Eight of Bear Acker's guitars, in the white, safely stored in the bed of his 1940 Ford pickup.
From the Director
Alton Acker
Aker apologizes for the truncated Electric Setup and Frets workshop article in Issue 95, and outlines steps to provide better workshop transcriptions in the future. He makes a plea for readers to submit more articles and begins preparing for the 2017 symposium.
errata; symposium
Conversion of a 1938 Martin OO-40H Hawaiian Guitar
Steve Kovacik
Kovacik, a certified Martin repairman, takes the reader through all the steps of converting a vintage Martin Hawaiian (slide) guitar to one suitable for Spanish-style play. Great detail including resetting a neck and removing flush frets. With 35 step photos.
repair; guitar; guitar, Hawaiian
Wood and Sound in Amplified Guitars
Roger Sadowsky
Sadowsky, who has built over 7300 electric guitars and basses shares his experience on how wood choices affect the sound of an electric guitar or bass. With 5 photos.
guitar,electric; guitar, bass; tonewood
Northeast Woodworkers Association Features Instruments Builders at Annual Showcase in Saratoga Springs, NY
Steve Kovacik
The Northeast Woodworkers Association annual show featured musical instruments in 2016. Of the 25 builders showing beautiful guitars, banjos, and ukuleles, most were hobbyists taught by ASIA's Dave Nichols or Bill Sterling, and many were made from kits provided by Sterling. With 13 photos.
school; club; kit
The Mothership
Greg Voros
The Mothership refers to Gruhn Guitars and their renowned repair shop. Voros is the manager for that shop and he lets us peek briefly behind the curtain. With 2 photos.
repair
On Design, Fair Use, and Professional Integrity
David Berkowitz
Berkowitz posits that the Internet fosters plagiarism and he encourages readers to be original, or to give credit to those we draw our "inspiration" from. He gives several examples to help us whichever way we go.
design
Wood Scarcity and the Future of Lutherie
Chris Herrod
Herrod, sales manager for Luthers Mercantile, International gives a gloomy prognosis for wide, beautiful, exotic lumber, but gives hope with ideas how individual luthiers can stand out anyway.
Lacey; CITES
Get Your Instrument Heard—How Can We Amplify Our Guitars?
Ernst Pozar
Pozar gives a breathless history of acoustic guitar amplification from J.M.A. Stroh to today's magentic pickups, with everything inbetween. With 7 photos.
pickup
Pearl Works and Knaggs Guitars Collaborate on Custom Larry Sifel Guitar—Night Sky
Alton Acker
Knaggs collaborates with Larry Sifel's widow to create a special-order acoustic guitar built by Knaggs and Inlaid by Pearl Works. With 5 photos.