Guitarmaker Issue 107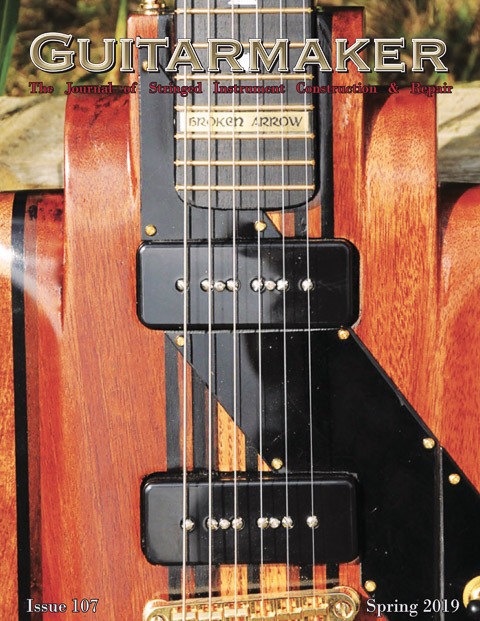 You must be signed in to view the PDF
Front Cover
A collaborative guitar from Tracy Cox and Tom Monaster. Story on page 3
guitar, electric
From the Director
Alton Acker
Acker is in full-swing symposium mode.
symposium
How the Cutting Board Guitar Became the Broken Arrow Guitar
Tom Monaster
Tracy Cox built a solid body electric guitar for Monaster, who dubbed it the Cutting Board guitar. But he soon grew weary of the weight, so Cox redesigned it into an Art Deco-inspired guitar now dubbed the Broke Arrow. With 10 photos.
guitar, electric
About Tap Tones
Gila Eban
Eban weights in on the tap tuning debate, with her opinion and a ton of math to back it up.
acoustics
The Ridgewing Experiment—Creating a New Type of Guitar
Tim White
White describes the evolution of the Chrysalis guitar (seen on the cover of Guitarmaker 40) into the Ridgewing, a full-sized guitar that can be easily broken down and reassembled. With 17 photos.
guitar, electric, guitar, travel
Gluing on Bracing
Bill Sterling
Sterling continues his acoustic guitar build by gluing on the braces. Includes a discussion of go-bar decks, too. With 10 photos.
guitar, acoustic; bracing
What to Do When You Have the Flu
Evan Gluck
Gluck brings us some wiring tips, a cool mod for Strats, and a word about the Symposium. With 11 photos.
guitar, electric; symposium